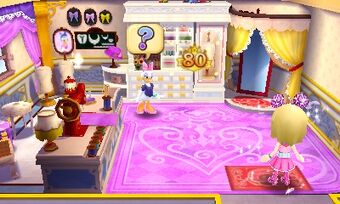 Daisy's Boutique
is a shop where the player can craft outfit items together by bringing Daisy the required materials and money amount. It is located in 
Castleton
and requires four
Happy Stickers
to open.
With every so numbers of stickers, more recipes will become unlocked.
A white building with many yellow and orange ribbons/pieces of cloth decorating it. 
A creamy-white building with big pink carpets and accents of blue, gold, brown, and violet. Pieces of jewelry can be seen decoratingth e room, as well as curtains, a sewing table, and changing area.
Catalogue
Edit
Outfit pieces are made into categories for easier finding. Each item also comes in alternate color option.
Accessories
Edit
| Name | Price | Materials |
| --- | --- | --- |
| Mickey Headband | 200 coins | 1 Cotton Leaf, 1 Colorful Clover |
| Casual Cap | 100 coins | 1 Cotton leaf |
| Mickey Headband (pattern) | 400 coins | 1 pure cotton leaf, 1 colorful clover |
| Minnie Polka Dot Headband | 400 coins | 1 pure cotton leaf, 1 polka dot tulip, 1 inky bubble |
| | | |
| | | |
| | | |
| Items | Price | Materials |
| --- | --- | --- |
| Casual Top | | |
| | | |
| | | |
| | | |
| Items | Price | Materials |
| --- | --- | --- |
| Casual Trousers | 100 coins | 1 Cotton leaf |
| Casual Camo Trousers | 400 coins | 1 denim leaf, 1 colorful clover |
| | | |
| | | |
| | | |
| | | |
| | | |
| | | |
| Item | Price | Materials |
| --- | --- | --- |
| Casual Sneakers | 100 coins | 1 purple cosmos, 1 cotton leaf |
| Minnie Polka Dot Pumps | 300 coins | 1 pure cotton leaf, 1 flexible bark |
| Item | Price | Materials |
| --- | --- | --- |
| Minnie Polka Dot Dress | 600 coins | 1 pure cotton leaf, 1 polka dot tulip |
| | | |