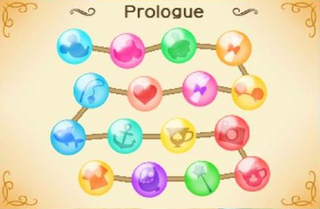 Happy Stickers
are special items obtained by completing quests, achivements, and special characters favours only in the prologue. The more Happy Stickers you have the more areas will become unlocked.
There is also an option to let the player see what stickers the game represents they get next.
Happy Stickers
Edit
Prologue (16)
Edit
When starting the game, this set of stickers will be introduced to the player to help them learn the basics.
| Stickers | How to Get |
| --- | --- |
| Mickey Head: Mickey & Friends | Meet Mickey and his friends |
| Minnie Head: First Time Shopping | Meet Minnie at McDuck's |
| Thumbs Up: Quintette of "Nice!" | Get 5 people to comment on your attire |
| Scroll: A Helping Hand | Complete the first favor |
| Mickey Ears: 3 pieces of clothing | Create 3 types of clothing |
| Scroll (2): Just like a Genie | Grant 3 favors |
| Heart: A Social Personality | Greet 10 people |
| Fising pole: First Fishing Rod | Create the first fishing pole |
| Fish: First Fish | Catch a fish |
| Anchor: Three is Better than One | Catch different 3 species of fish |
| Teacup: Proud Owner | Become the owner of the Cafe. |
| Camera: I'll Last Longer | Take a commemorative photo in front of the cafe. |
| Tea Pot: Owner Level Up! | Incease owner level at cafe. |
| Wand: Wanderful! | Get first wand. |
| Ghost: First Episode Cleared | Clear first episode. |
| Shirt: Clothes fit for a Quest | Make quest clothes at the boutique. |
Outfits (14)
Edit
|             Stickers                                                           How to Get | |
| --- | --- |
| 1st Bow: 5 Ace Ensembles                        Change into 5 Ace Ensembles | |
| 2nd Bow: 8 Ace Ensembles                       Change into 8 Ace Ensembles | |
| 3rd Bow: 12 Ace Ensembles                    Change into 12 Ace Ensembles | |
| 4th Bow: 16 Ace Ensembles                    Change into 16 Ace Ensembles | |
| 1st Shirt: 20 Ace Ensembles                    Change into 20 Ace Ensembles | |
| 2nd Shirt: 30 Ace Ensembles                   Change into 30 Ace Ensembles | |
| 3rd Shirt: 40 Ace Ensembles                    Change into 40 Ace Ensembles | |
| 4th Shirt: 50 Ace Ensembles                    Change into 50 Ace Ensembles | |
| 1st Sparkles: First Sparkle                           Get your first sparkle. | |
| 2nd Sparkles: All Sparkles                          Collect every sparkle there is! | |
| Mickey Ears: 15 Types of ears                     Own 15 pairs of ears. | |
| Hair: 10 Types of Hairstyles                         Own 10 kinds of hairstyles. | |
| Shoe: 100 Types of Shoes                          Own 100 pairs of shoes. | |
| Needle and thread: Costume Debut         Wear a costume Ace Ensemble | |
Fishing (10)
Edit
|              Stickers                                                How to Get | |
| --- | --- |
| 1st Anchor: Notive Fisherman                    Catch 5 kinds of fish. | |
| 2nd Anchor: Amateur Fisherman                Catch 8 kinds of fish. | |
| 3rd Anchor: Pro Fisherman                        Catch 12 kinds of fish. | |
| 4th Anchor: Master Fisherman                  Catch 16 kinds of fish. | |
| 1st Fish: Good catch (50cm+)                 Catch a fish larger than 50cm. | |
| 2nd Fish: Great Catch (100cm+)            Catch a fish larger than 100cm. | |
| 3rd Fish: Amazing Catch (180cm+)       Catch a fish larger than 180cm. | |
| King Fish: The Legendary Fish           Catch a legendary fish. | |
| Rod: One Rod to Catch them All         Make the ultimate rod. | |
| Sparkles: Every Birthstone Bubble   Collect all 12 types of bubbles | |
Cafe (16)
Edit
|           Stickers                                                     How to Get | |
| --- | --- |
| 1st Chair: Carpentry Debut                Make first piece of furniture. | |
| 2nd Chair: 5 Types of Furniture         Make 5 pieces of furniture. | |
| 3rd Chair: 10 Types of Furniture        Make 10 pieces of furniture | |
| 4th Chair: 30 Types of Furniture       Make 30 pieces of furniture | |
| 5th Chair: 50 Types of Furniture      Make 50 pieces of furniture | |
| 6th Chair: 100 Types of Furniture     Make 100 pieces of furniture | |
| 1st Tea Cup: A "Hot Theme" menu     Make a menu of "hot theme" items | |
| 2nd Tea Cup: A "Rare" menu          Make a menu of items 'rare' or higher | |
| 1st Jug: Amateur Chef                    Make 5 types of dishes. | |
| 2nd Jug: Skilled Chef                      Make 30 types of dishes. | |
| 3rd Jug: Pro Chef                           Make 50 types of dishes | |
| 1st Table: 2 Theme Combos          Make 2 theme combos. | |
| 2nd Table: 4 Theme Combos         Make 4 theme combos | |
| 3rd Table: 6 Theme Combos          Make 6 theme combos | |
| 1st Sparkles: Secret Theme Combo      Complete a secret theme combo | |
| 2nd Sparkles: Legenary owner       Reach the highest owner level | |
Photos (12)
Edit
| Stickers | How to Get |
| --- | --- |
| 1st camera: Photo with Alice | Take a commemorative photo with Alice |
| 2nd camera: Photo with Cinderella | Take a commemorative photo with Cinderella |
| 3rd camera: Photo with Aladdin | Take a commemorative photo with Aladdin |
| 4th camera: Photo with Pooh | Take a commemorative photo with Winnie the Pooh |
| 5th camera: Photo with Peter Pan | Take a commemorative photo with Peter Pan |
| 6th camera: Photo with Beast | Take a commemorative photo with Beast |
| 7th camera: Photo with Snow White | Take a commemorative photo with Snow White |
| 8th camera: Photo with Stitch | Take a commemorative photo with Stitch |
| 9th camera: Photo with Hercules | Take a commemorative photo with Hercules |
| 10th camera: Photo with Chip and Dale | Take a commemorative photo with Chip and Dale |
| 11th camera: Photo with Pete | Take a commemorative photo with Pete |
| 12th camera: Photo with Huey, Dewey, and Louie | Take a commemorative photo with Huey, Dewey, and Louie |
Episodes (12)
Edit
| Stickers | How to Get |
| --- | --- |
| Complete 3 Episodes | Clear 3 Episodes! |
| Complete 5 Episodes | Clear 5 Episodes! |
| Complete 10 Episodes | Clear 10 Episodes! |
| Complete 15 Episodes | Clear 15 Episodes! |
| Complete 20 Episodes | Clear 20 Episodes! |
| Complete 30 Episodes | Clear 30 Episodes! |
| Complete 40 Episodes | Clear 40 Episodes! |
| Complete 50 Episodes | Clear 50 Episodes! |
| Complete Bonus Episode | Clear the bonus episodes of three worlds |
| Defeat Queen Pokey | Beat the final boss ghost in Cinderella's World |
| Defeat Queen Coelem | Beat the final ghost in Aladdin's World |
| Defeat Guiltea | Beat the final ghost in Alice's World |
Farming (10)
Edit
| Stickers | How to Get |
| --- | --- |
| First Harvest | Harvest 5 types |
| Novice Gardener | Harvest 10 types |
| Amateur Gardener | Harvest 15 types |
| Skilled Gardener | Harvest 20 types |
| Pro Gardener | Harvest 30 types |
| Master Gardener | Harvest 40 types of crops |
| Legendary gardener | Harvest 50 types of crops |
| The Legendary Flower | Pick the Big Ol' Sunflower |
| The Legendary Honey | Collect the Rainbow Honey. |
| The Legendary Veggie | Harvest the Starfall Radish. |
Secret (10)
Edit
| Stickers | How to Get |
| --- | --- |
| *** Ball | Clear one of the Balls with a *** ranking. |
| Top Rating at Royal Ball | Clear the Royal Ball with the top rating |
| Magic Dungeon B5 | Clear level B5 of the Magic Dungeon. |
| Secret Wand | Make a secret wand |
| Ultimate Quest Clothes | Make a Quest Outfit with a maxed out HP stat. |
| Scrooge's Favorite Customer | Spend 100,000 coins at McDucks. |
| Rare Trade | Get a Rare Trading Card |
| Super Rare Trade | Get a super rare Trading Card |
| Card Collector | Obtain 100 types of Trading Cards |
| Card Master | Collect 200 types of Trading Cards |
Although the sticker states that you have to catch a fish larger than 100 cm, you can still earn the badge with a fish that is exactly 100 cm